Being able to consciously perceive the present here and now requires practice. Our course offers help.
Qi Gong and Yoga, Yurashi and Sound
Elemental wellness, as it is understood at Land Gut Höhne, relates to the very core of wellness. The word wellness is a portmanteau of "well-being" and "fitness", so we see well-being/relaxation and exercise/sport as the basis of wellness.
In passing with our holistic understanding, this also includes organic food and the good atmosphere and services that satisfy a person's natural needs.
Individual feel-good treatments such as Yurashi or sound massage release inner energy blockages gently, noticeably and with a lasting effect. And in at least one course per day, we offer original relaxation methods such as Qi Gong or yoga for small groups, alternated with walking, foot-feeling, hiking, imaginary journeys or meditation.
Individual, course, exclusive group
Feel the different effects of active and passive movement. We count sports, fitness and aquafit as active. With Yurashi or sound massages, the relaxed and passive body is moved internally through gentle external influences.
Would you like an exclusive course for your team? Or with your friends? Or for yourself? Get in touch, we'd be happy to make you a personal offer.
Yurashi single application
From ancient Japanese folk medicine, after Koji Matsunaga. The body is invited to let go of tension through a gentle touch. Soft stretches help reduce pressure from muscles and fascia. A holistic relaxation that lets the body breathe freely. The application is carried out on the loosely clothed body.
55 min. €110 as a single application
25 min. 65 € as an introductory offer
Sound massage single application
Relax, breathe, enjoy. That's all there is to do while your mindfulness coach gently plays the singing bowls on or over your body. The vibrations set inner energies in motion. Let go and immerse yourself in this relaxing experience. Comfortable, light clothing and warm socks are recommended. You lie on a couch or a mat.
55 min. €110 as a single application
25 min. 65 € as an introductory offer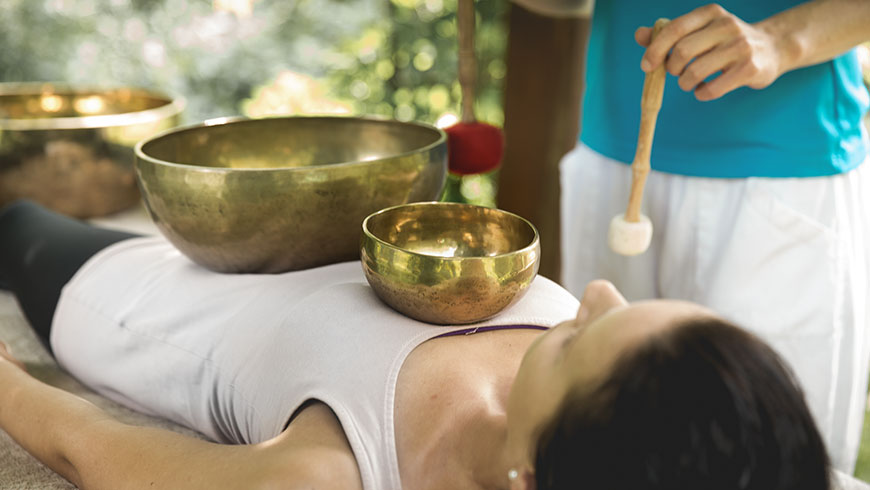 Light bath with whirl effect
Warm water has a soothing, weightless effect and combined with a light massage effect, everyday life falls away. A time to relax body and mind and to gain new strength. Relaxing music can support the effect. As a couple or alone, it is pure comfort for all the senses.
25 min. €55
25 min. €65 for two people
Hydrojet massage bed with water pressure
This pressure jet massage works through the power of the pure element water. In comfortable, light clothing, you lie on your back on a fabric pad on the warm, flexible natural rubber mat. Underneath, two nozzles move a jet of water. This can be devoted to the entire back of the body or specifically to specific regions. The bright room with a pleasant atmosphere supports the relaxation effect. You can get the chip card at the reception
15 min. €15

Weightless in the Space Curl with a trainer
The space curl originally comes from astronaut training. It addresses deeper body zones that cannot be reached with conventional training equipment. With up to three circular, movable frames, the user can steer in all directions controlled by their body weight. Experience the feeling of weightlessness in this unique training and therapy device. Feet and hips are buckled, sturdy sneakers required. Instructions by a wellness trainer by appointment.
25 min. individual training €65
Qi Gong course based on the five elements
Secret Element Qi Gong by co-founder Sascha Wagner combines the ancient Chinese health method Qi Gong with modern scientific knowledge from kinesiology. The soft, flowing exercises are led by a Secret Element Qi Gong teacher. Suitable for those who are interested, beginners and experienced users alike. Comfortable clothing and shoes are recommended. Date depends on the weekly course schedule.
55 min. €15 per person
Mindful yoga as a group course offer
This dynamic, gentle style is equally suitable for beginners and experienced practitioners. Everyone starts at his/her level. Beginning with a meditation, it goes into calm, flowing movements. Before we go into the final relaxation, the individual asanas (yoga postures) are held longer and the breath is deepened again. An activating and relaxing feeling of well-being sets in. The date depends on the current weekly course schedule.
60 min. €15 per person
Meditation and fantasy journey as courses
Guided meditations and guided fantasy journeys in small groups help you switch off from everyday life. In a relaxed, easy-going atmosphere, we devote ourselves to the moment and immerse ourselves in the now. Breathing, listening, careful observation let the carousel of thoughts come to rest. Everyone is welcome, even without prior knowledge. Comfortable clothing and warm socks are recommended. A pre-registration is neccessary. The dates are based on the weekly course schedule.
30 min. €10 per person
Aquafit und Pilates as sports courses
Anyone who wants to do something for their fitness and feel their muscles again is challenged with Pilates or Aquafit. During aqua fitness in the pool of the Neandertal Therme, the participants imitate the movements of the fitness coach. Pilates, on the other hand, takes place in a room and on dry land, but you can also work up a sweat. The dates are based on the current weekly course schedule.
45 min. pilates €10 per person

30 min. aquafit €10 per person
Forest bathing as an outdoor course offer
Nature, green, trees are simply good for you. The mindfulness coach leads through the natural terrain to trees, in groves. The participants breathe, smell, hear, touch, look and feel their surroundings together. This takes away the stress, conveys calm, confidence and vitality, and strengthens the immune system. Japanese scientists proved this and created a recognized new stress management method. Please wear weatherproof clothing and shoes. Dates are based on the current weekly course schedule.
approx. 90 min. €10 per person
Foot feeling as an outdoor course offer
Shoes and socks off. Grounding in the park is the task in the mindfulness course. If the weather is suitable, we will go to the park in small groups on different surfaces, guided by the mindfulness coach, and feel what is happening. Over hill and dale, meadow, mulch, sand and asphalt. It can prick, press or be pleasantly soft. Walk carefully and observe. It makes you happy. The date depends on the season and the current weekly course schedule.
approx.

 90 min. €14 per person
Hiking in the Stindertal as an outdoor course
Adequately equipped with trip-proof shoes, weatherproof clothing and a good mood, this guided hike starts directly from Land Gut Höhne into the Stindertal. Along the fields, meadows and the Neanderbach, paths lead us uphill and downhill, which have been walked by the Neanderthals for thousands of years. Beautiful, wild and romantic flora and fauna accompany us. Giant beech trees, galloways, fallow deer... see for yourself. Dates depend on the season, the weather and the current weekly course schedule.

approx.

 120 min. €10 per person
Packages often contain gifts – with us, too. Book a Land Gut Times package and, depending on the length of your stay, we'll gift you one night or more. Select the room you want, the dates and a wellness service, and your wellness break can begin.